About the Saint James Restaurant
The meeting place for epicureans...
Located on the sublime island of Bora Bora, the St James welcomes you in an idyllic setting.
Discover a subtle and refined French cuisine combining Polynesian flavors.
We work exclusively with quality fresh products, and always favor a short circuit by working hand in hand with local fishermen and farmers.
The St James will be able to offer you a real epicurean and taste experience, thanks to exceptional products and flavors. You can enjoy a tasty meal on our terrace, overlooking the turquoise waters of the most beautiful lagoon in the world. Welcome to Bora Bora!
Our wine cellar, very complete, will also delight amateurs with very good references. Our team will be happy to advise you on a perfect food and wine pairing.
You can also enjoy the warm atmosphere at our bar: background music, signature cocktails, house tapas ... All by the water and your feet in the sand.
At the end of the day, admire a flamboyant sunset while sipping a delicious cocktail.
Our attentive and smiling team will make your stay at the St James a moment of relaxation and conviviality.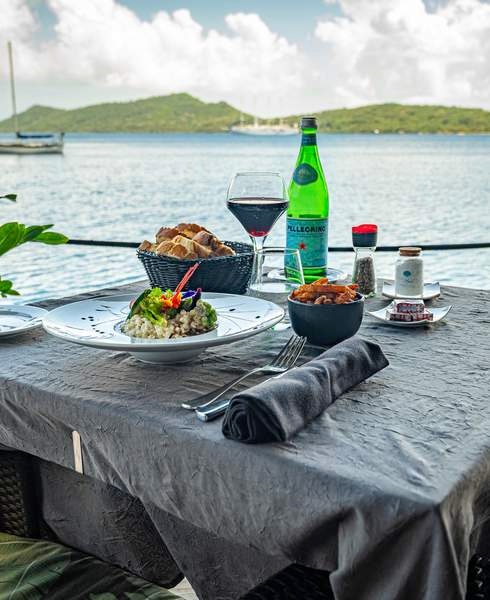 ---
What our customers say
Words from our esteemed clients
This is by far the best restaurant in the little town of Vaitape. Easily reached by boat, taxi or by foot. Awesome,fresh food with an adjacent bakery that offers something deliscious for everyone. You will find here a very kind, courteous and knowledgeable staff that treats you like family. Most all of them speak english well which helps beautifully in a french speaking nation. I love the ambiance, in which you eat your food and I have experienced nothing but kindness and bliss while visiting this beautiful restaurant. They also offer a sweet happy hour with deliscious cocktails by the sea and one feels truly at home visiting this very well managed restaurant. 5 stars all the way, come see, eat, enjoy, you will not regret it and remember it forever.

Honolulu, Hawaï

So Delicious. We ate here three different times. It is right on the water, the food is delicious and the wait staff is awesome.

We spent a couple weeks in Bora Bora and out of all the restaurants we tried both in and outside hotels,
we enjoyed the food here the most.
Reasonable portions with local ingredients paired with a solid wine list!

Texas

Nice Dinner Overlooking the Water. We had a nice dinner with a great view after a sunset cruise. The owner kept things moving and his attention to detail showed. We loved the place so much, we even bought the wine glasses our wine was served in!

By far the best in Bora Bora. If you are looking for the best place to eat in Bora Bora , go to Saint James... Indeed, the food, the cocktail and the wine are just perfect. We had first a Sunset drink at the terrasse where our two cocktails were lovely accompanied by some tapas which were perfect. The dinner then at the upper terrace was also very good. We really recommend you the place.

Dubai, United Arab Emirates

Great Food Good Views. We enjoyed our one-year anniversary dinner here. The food was excellent and the service was wonderful